What company has the best GRE tutor? Let's look at reviews!
Trevor Klee, Tutor GRE tutoring reviews
Well, of course, I have to throw our hat in the ring. People love our GRE tutoring, and who can blame them?
We have a deep knowledge of the exams we teach, and that depth is matched only by the amount that we care about our clients' success. That's probably why we have 5 stars on Google and on Yelp.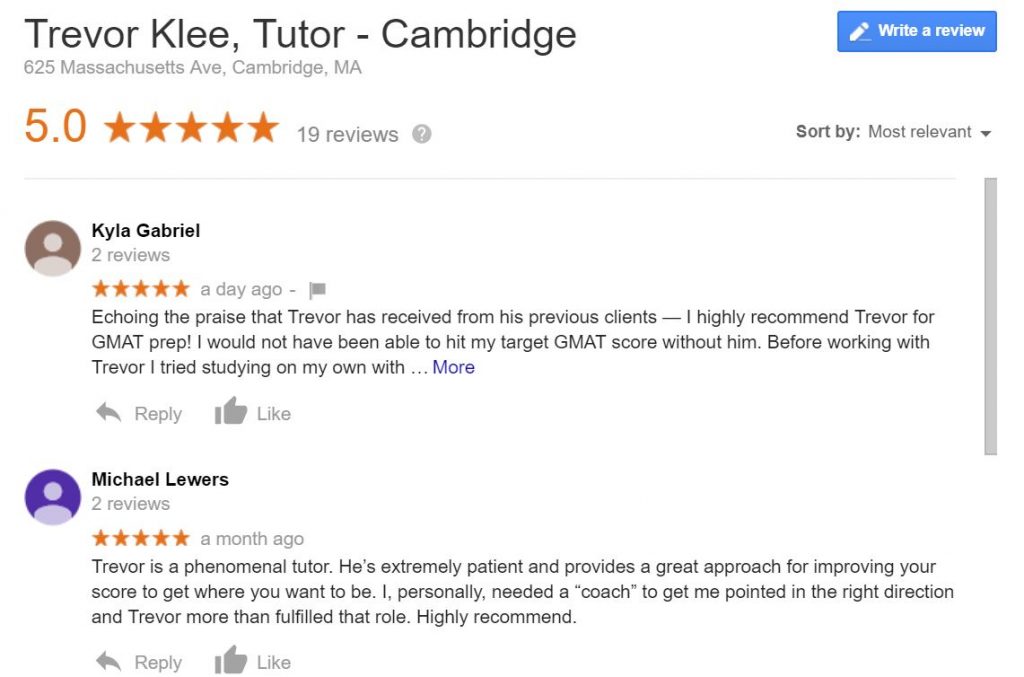 For example, Anirudh Sriram says: "Trevor has been an invaluable help for me to get an excellent score on the GRE. Other than providing his extremely useful resources he was always available to answer any doubts and questions I had. He is very adept at understanding a specific student's needs and lets them know what they need to do to succeed. "
If you're interested in pursuing tutoring with us, use the chatbox below or contact us at the email address above.
Magoosh GRE tutoring reviews
Next up, we have Magoosh. They've made huge inroads in the past few years with their video content, but what is their tutoring like?
Well, frankly, it doesn't look like they have a lot of people doing GRE tutoring with them. I couldn't find reviews for their tutoring anywhere online.
When I look at their GRE tutors, it, um.. does not look promising. Literally none of the tutors have their scores listed, and it's not even obvious that they've taken the GRE.
Seriously, look: Pete and Amyn are the only ones with GRE listed, and Amyn says he has "exposure" to the GRE.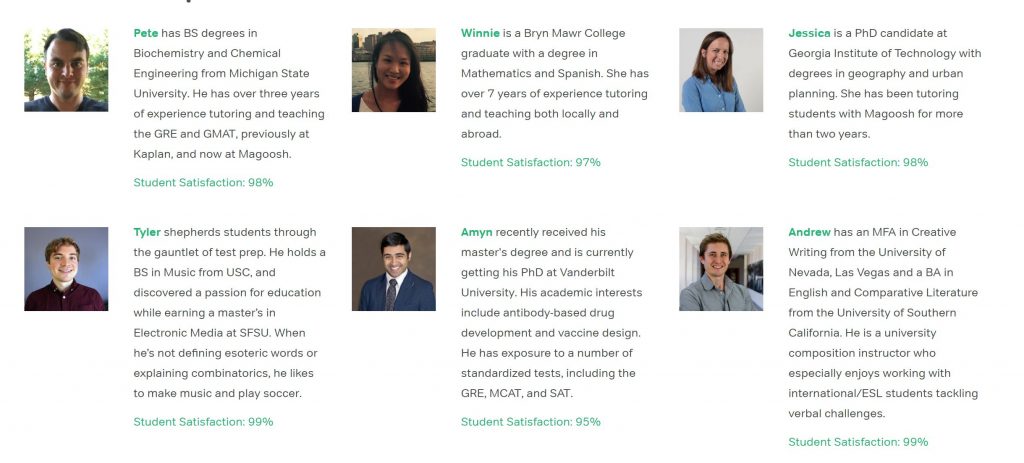 There is a "student satisfaction" rating, but I'm not sure where that comes from. Are they rating their tutors out of 100, or are more than 100 people rating them? What's the difference between the guy with 98% satisfaction and the guy with 99% satisfaction?
I would not recommend Magoosh for GRE tutoring.
Kaplan GRE tutoring reviews
So Kaplan, as a whole, has pretty bad reviews. Look at what happens when you Google "Kaplan GRE tutoring Yelp".
Our options are: 3 stars, 2 stars, 2.5 stars, and 2.5 stars, with highlights like: "SCAM", "Very Disappointed", and "Steer clear of the in-person class".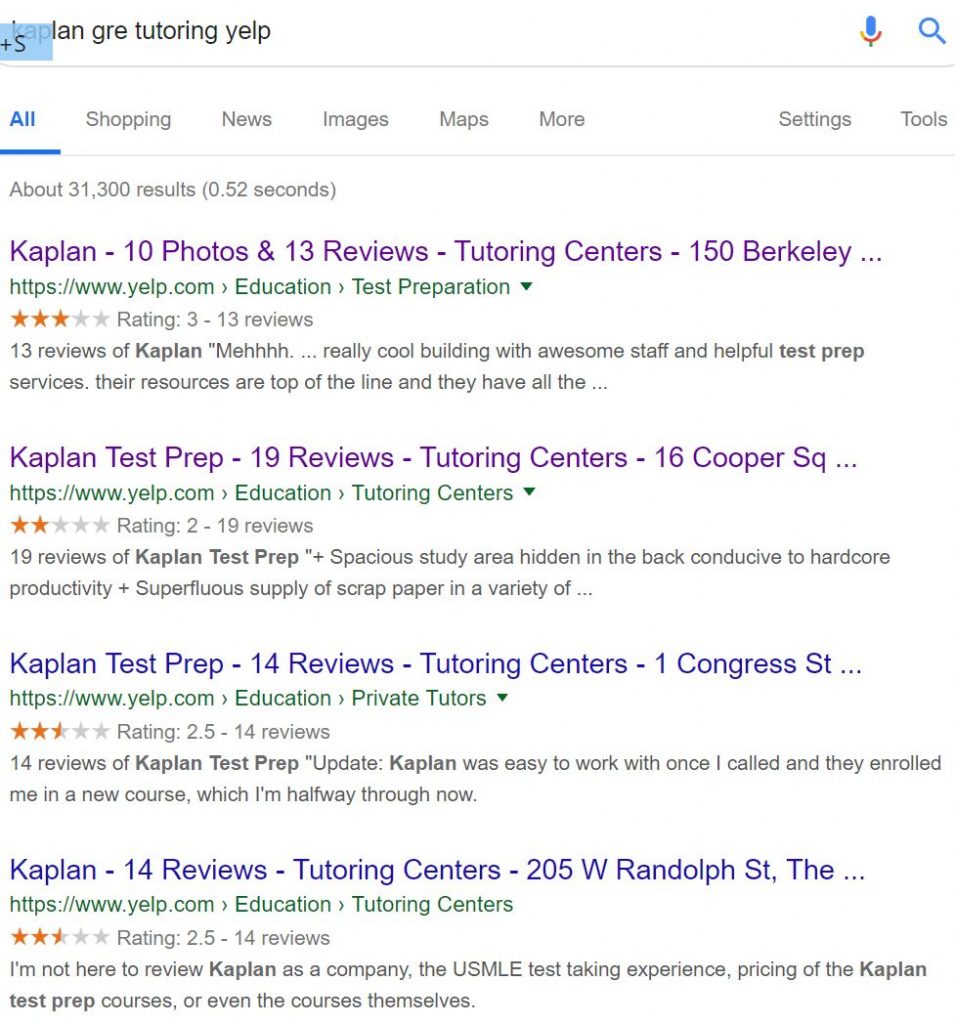 Unfortunately, none of these are for GRE tutoring specifically. For GRE tutoring, I had to turn to the Kaplan web page and judge from there.
First of all, who has this much money???? Kaplan charges $2299  for 10 hours. That's crazy expensive.

Second of all, at least Kaplan beats Magoosh by having everyone who tutors supposedly be an expert at GRE tutoring. But, they still don't report any scores, and only one of their "featured" tutors actually claims to be a top-scorer.

For $230/hr, I'd want the inventor of the GRE to be my tutor, not just like…random people.
I would not recommend Kaplan for GRE tutoring.
Varsity Tutors GRE tutoring reviews
Oh Varsity Tutors. They show up everywhere, including my LinkedIn inbox trying to recruit me for $40/hr.
They're yet another tutoring company, yet somehow have raised $107 million dollars (!!!!) to um, tutor more people.
So, let's see what $100 million gets you with GRE tutoring.
Well…it's not clear. I look them up online, and I get some pretty good reviews, but they're for random subjects.

There's a lot of people doing chemistry, algebra, and SAT, but it doesn't look like there's too many people doing GRE tutoring with Varsity Tutors. Well then, let's look at their GRE tutoring page!
And taking a look at it…not so good. We get people like Andrew, who's a certified GRE tutor because of his, um, background in intellectual property law and the SAT (lawyer jobs aren't paying enough these days I guess).
Or Sejal, who apparently only took the GRE verbal section

but still tutors GRE quant.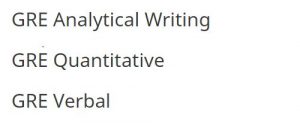 In other words, Varsity Tutors hires for GRE tutoring anyone with a car, passing experience with tests, and willingness to accept $40/hr.
I'd not recommend choosing those people for your GRE tutoring.
Next Step Test Prep GRE tutoring reviews
Last up, Next Step Test Prep.
Now, I'm most familiar with Next Step as an MCAT tutoring service, but I guess they've moved into GRE tutoring as well.
And,  when I look up reviews, I see some interesting results.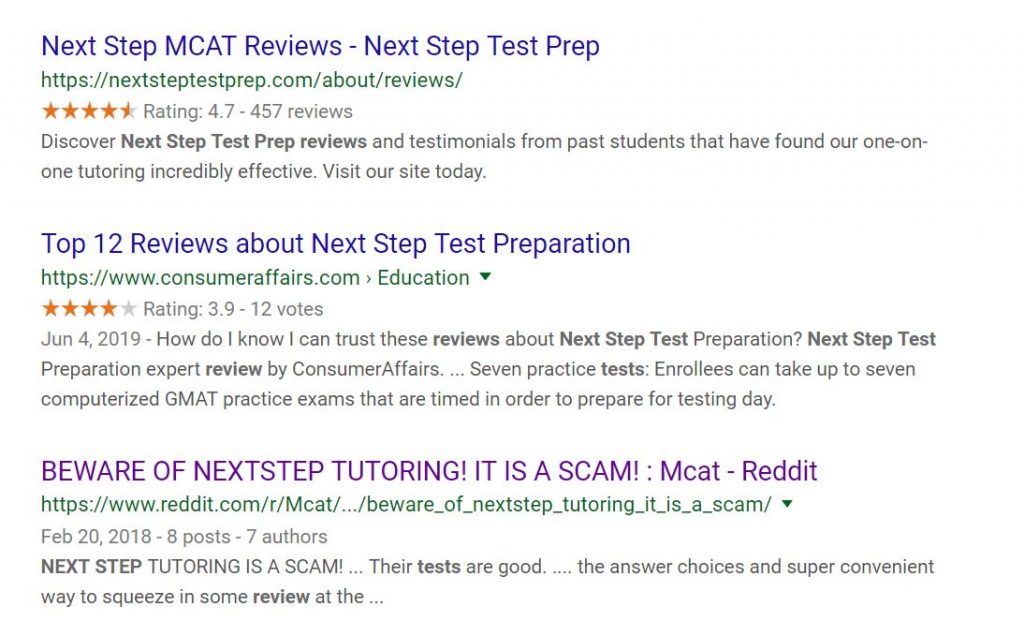 Next Step gives themselves a 4.7 out of 5 stars. Consumer Affairs gives them 3.9 out of 5 stars. And Reddit calls them a scam.
Now, granted, that's for MCAT tutoring, but I still want to see what's up. Let's look at the Next Step website first.
Well, to be honest, even Next Step doesn't seem thrilled with their own GRE tutoring. For example, one of their reviewers, "Ashley", thanks them profusely for helping her score a 154V/150Q.
That's a 39th percentile score! Why is she happy about that?
Huh. Next up, let's check Consumer Affairs.
As promised: 3.9 stars.

Unfortunately, nobody on there mentions any test except for the LSAT or MCAT. The LSAT guy is happy, the MCAT guy is furious, and so…not much luck.
Overall, I would not recommend Next Step for GRE tutoring.
Last up, the reddit post entitled "BEWARE OF NEXTSTEP TUTORING! IT IS A SCAM!" It is safe to say that the guy did not have a good experience with NextStep MCAT tutoring.
It's a really long post (700 words), but long story short, the tutors forgot their knowledge of the MCAT, and possibly lied about having ever taken the MCAT.
They were unable to answer any questions, and, when the guy asked for a refund, they got sneaky and refused to give him a refund.
Not fun.