What company has the best GMAT tutor? Let's look at reviews.
Is tutoring with Trevor Klee, Tutor worth it? Reviews.
Not to sound like we have a swelled head, but our GMAT tutoring gets fantastic reviews. We are really, really good at helping people with the GMAT.
We have 5 stars on Google, 5 stars on Yelp, and a heap of glowing testimonials. Most of our clients experience at least 100 point score boost in 10 hours of working with us.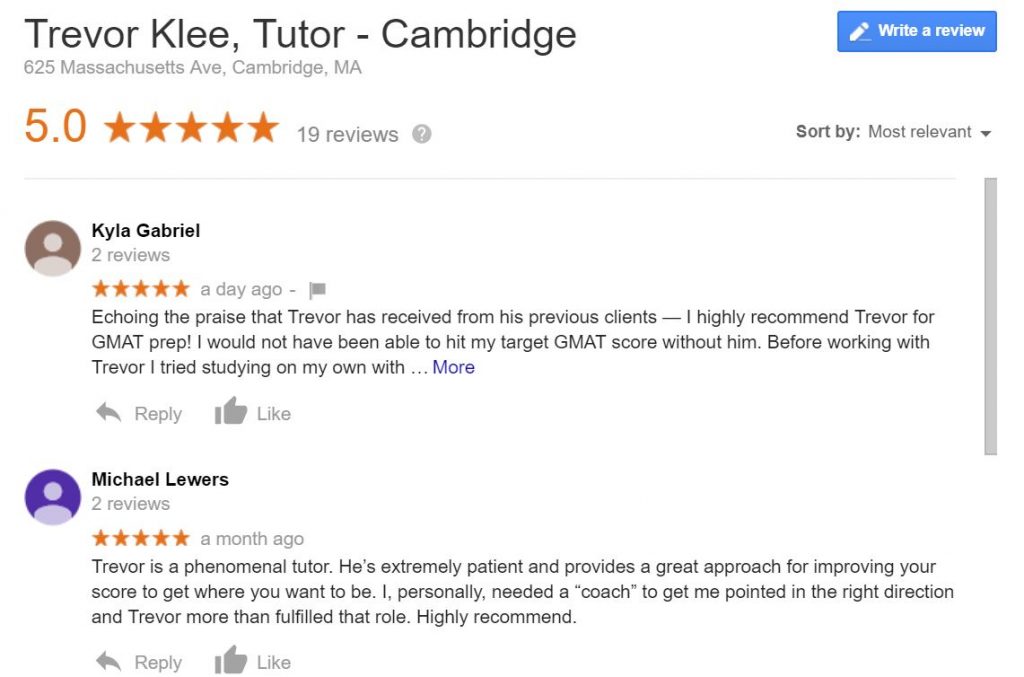 For example, Morgan Leinberry says:
"Trevor is amazing. After taking a prep class with a major company, I still wasn't pleased with my GMAT score. I decided to get a tutor and found Trevor through googling. We met over 12 sessions and I improved my score by 100 points. I am so thrilled! Trevor cares about how you do and is very flexible with his schedule. He taught me GMAT skills that changed the way I viewed the test. He built my confidence and I know that I couldn't have done this without him. If you aren't seeing the growth you would like to see, go to Trevor. He is totally worth it. Thanks again, Trevor."
If you're interested in pursuing tutoring with us, use the email above, or the chat box to the bottom right. We do online and Boston-based tutoring for the GMAT.
Manhattan Prep GMAT tutoring reviews
Manhattan Prep has generally good reviews for their GMAT tutoring. One branch near me has 5 stars on Google, while another has no reviews (I guess it's not as popular?).
In particular, everyone really seems to love Logan Thompson in Boston. Even the Google Review box is in on it.

Ryan Gilboy says:
"If you're looking for a tutor I strongly recommend Logan Thompson. I was really plateauing when I decided to give tutoring a shot, and decided to go with Logan after seeing all the great reviews– and am I glad I did. With his help, I was able to break the 700 mark and make my dream GMAT score a reality. Not only did Logan help me learn the necessary material specific to the GMAT, but he also gave mental tips and tricks to make me a more confident test taker in general."
So, I guess, if you go with Manhattan Prep, and you get Logan Thompson, nice! That's what you want. If you get someone else, politely request Logan Thompson instead.
Veritas Prep GMAT tutoring reviews
Trying to find Veritas Prep reviews is not easy. They had zero reviews for any of their locations in Boston, which was strange. I'm not sure what to think about that.
So, instead, I found their Yelp page for San Francisco as well as their page on Beat the GMAT.
Their Yelp page in San Francisco had their rating at a 4.5, but it didn't seem like anyone did tutoring with them. Fortunately, there were more reviews for tutoring on Beat the GMAT.
Whew! But, long story short, people like their tutoring on Beat the GMAT.

For example, Student92 says "Before meeting David i was scoring around 620 on average on practice tests, with my highest being 690. However, upon taking 10 hours with David and putting hard work in by myself i achieved multiple 690's, followed by some 720's and ultimately scoring 720 on my real test. Along with being a good guy, David was a great tutor and i'd highly recommend him to other students looking to improve their score."
Meanwhile, Masilva2 says "I called Veritas after my first official test score came back far below my practice tests and begged the man who answered the phone to give me a great tutor so I could make my application deadline. Luckily they sent me Devin and after two weeks of simplifying all the material that had become gobbly gook from all the different textbook strategies I was able to sit down for another official test and improve my score by 50 points. Strongly recommend."
Varsity Tutors GMAT reviews
Varsity Tutors are sneaky, but they definitely do not do good GMAT tutoring. When I searched for Varsity Tutors GMAT reviews, I got this supposedly promising result:


4.9 stars? Wow! Then I looked at one of the 5 star reviews on the page. Tell me if you notice something strange: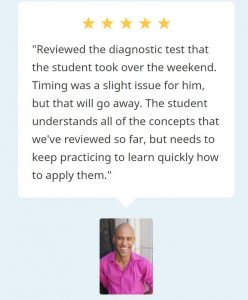 That's not a review by the student at all! That's a review by the tutor! The dude gave himself 5 stars. Congrats to him, but that is not how reviews are supposed to work.
I would not go with Varsity Tutors for GMAT tutoring.
Princeton Review GMAT tutoring reviews
Well, Princeton Review, according to their Yelp reviews, is slightly more popular with their students than athlete's foot.
Behold:

Their Yelp reviews are sort of fun. Roberto M. complains about his instructor's political jokes. Kristie J. had their instructor not show up (but no refund). Daisy W. says her tutor just drank coffee and chatted about random things. A couple people just call it fraudulent.
I think only one image is appropriate for Princeton Review's approach to instruction in general.