When a student looks for an MCAT tutor, they have a lot of options. It can be really tough to decide which company to work with.
That's why I decided to create this summary of reviews for MCAT tutoring sites. Without any further ado, let's begin.

Trevor Klee, Tutor: 5*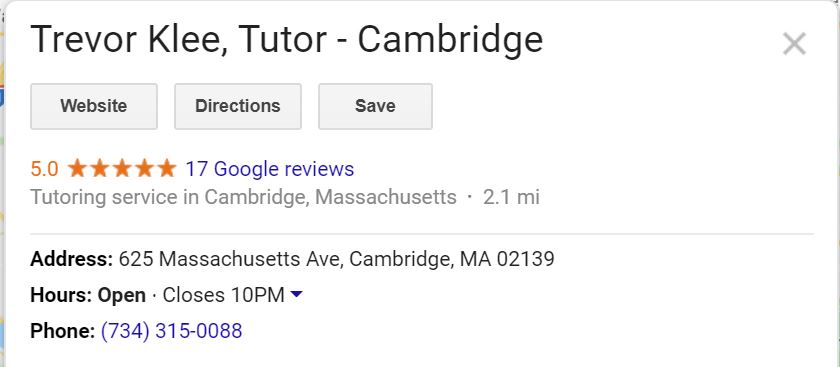 So first, there is, of course, my tutoring company. We've received solely 5 star reviews at our Cambridge location for all of our tutoring.
In terms of MCAT specific reviews, we received one 5 star review from a student named Ashley Conley, in which she said:
"Studying for the MCAT can be a daunting task for anyone. Personally, I did not know where to begin or what questions to ask, and with so many different study plans and advice online it was hard to navigate which resources were going to positively impact my performance.
The MCAT tutor, Nick, was the best decision I made. He has made a significant difference in my overall knowledge of various scientific subject matters and my performance on the MCAT. Within the first month, my practice full length MCAT scores increased by 8 points. He empowered me, coached me and gave me the confidence to reach my full potential."
Like all good MCAT tutors, our results come from our excellent preparation and our care towards our students, which comes through in our tutoring sessions. Our customized study plans and resource guides help as well.
Cambridge Coaching, 5*

Cambridge coaching also comes well-reviewed, earning 5 stars for their tutoring.
While I couldn't find any reviews for their MCAT tutoring specifically, I did find one review that more generally spoke highly of their med school preparation.
Specifically, Alex Landau wrote a 5 star review in which he said: "Amazing experience working with Cambridge Coaching! I firmly believe their assistance was a key part of my eventual acceptance to medical school. Cannot recommend them enough."
Doctor MCAT Tutoring NYC: 4.7*

This MCAT tutoring service in NYC has nearly perfect reviews (except for 1 very disgruntled customer).
Apparently, the only tutoring this doctor does is MCAT tutoring, as makes sense for a doctor.
One of his recent clients, Brenda Jefferson, says this in her 5* review: "Stuart is such an amazing tutor!!! – He's amazingly smart and has a great sense of humor, which really helps to keep you engaged even when teaching a subject like Physics or Organic Chemistry. He pushes you to reach your goals in each section of the MCAT by challenging you with the right level of problems at each stage and helping you remember concepts along the way. He really helped my confidence going into the exam. Easily the best tutor I've ever had and i would recommend him to anyone who wants to improve their understanding of the material and their overall MCAT score."
4. MCAT Tutor NYC (MCAT King): 5*
While this tutor appears relatively inexperienced, with only 4 reviews so far, they are making quite a splash.
You would hope that someone who names themselves "MCAT King" would be a good MCAT tutor, and apparently their students agree.
One student, Yael Z, says this in his 5* review: "When I initially took the MCAT Diagnostic Test, I scored a 497. Then with Noble's help, I was able to get my score to a 513. His daily schedule and valuable hints/tools really made the difference. Would recommend MCAT KING 100%!! It truly made the difference between medical school being a dream versus medical school being a reality.
I attended his group tutoring and few one on one over 4 months. Noble is more than a teacher/professor. He is a real mentor.
Thank you for helping me through my journey and thank you for the Birthday Cake. the best surprise."
What about Varsity Tutors MCAT reviews or Next Step Test Prep MCAT reviews? Don't they make it on the list?
Unfortunately not. While I'm sure they have some excellent MCAT tutors, both of those companies employ the strategy of hiring a HUGE number of tutors.
The result? It's really impossible to tell what sort of tutor you're going to get. You might get an excellent tutor, or you might not.
They do not rank among the best choices for MCAT tutoring (as much as they may want to).