This post was written by Punsala Navaratna for this blog. 
The GMAT is an exam that requires smart and intense preparation. According to GMAC (the makers of the test), the more you study, the higher you'll end up scoring – generally speaking.
A critical step to success, though, lies in deciding what preparation resources you're going to use. It goes without saying that using the best possible resources can translate into sky-high scores – but, strictly speaking, the opposite can also true. If you're relying on mediocre material (and there are tons out there), your GMAT score will likely suffer – no matter how hard you study.
That's why using a collection of the best quality resources is unquestionably essential to GMAT success.
This is doubly true when it comes to GMAT practice questions. For example, verbal GMAT questions can be particularly hard to imitate. Your best source for verbal practice is actually GMAC's Official Guide (which we'll review in this article), as most other companies have less-than-stellar questions in that arena.
In short, if you're not practicing with official material – or at least, material that's very closely designed to simulate it – you're not going to get better at the GMAT.
With that said, this article lists out the 15 most popular GMAT prep books, courses, and mobile apps for 2019 and provides a comprehensive review on each, along with some tips and advice to help you make all the right prep choices.
Curious about our top GMAT picks for 2019? Here they are in a handy list:
The Best GMAT Prep Book: The GMAT Official Guide 2020 (Rating: 4.5/5)
The Best GMAT Prep Course: Manhattan Prep GMAT Prep Courses (Rating: 4/5)
The Best GMAT Prep App: 21st Night (Rating: 4/5)
The Best GMAT Prep Books for 2019
Whether you're planning to self-study or not, a good foundation GMAT book is an essential ingredient for every test-taker. If you're just beginning your GMAT journey, it's also likely that you'll need more than one book to effectively meet all your learning needs.
Here are some important questions to ask yourself before investing in a GMAT book:
Are practice tests included? (If so, how many?)
How closely do their practice questions resemble the actual GMAT? (If they deviate too much, they could be practically useless!)
Has the publisher made any online resources available?
Which edition should I buy? (Sometimes, new editions have important updates related to the test. Other times, though, the differences are negligible and you could buy a previous edition for a much better price.)
How can this book add to an existing one I'm using? (Mix and match books to align their strengths and weaknesses.)
Wherever possible, it's a good idea to have a look through the table of contents and any free chapters to see whether the topic areas and author's style will work for you. The last thing you want is to purchase a 2000-page tome only to find out that the writing sends you right to sleep!
Read on below to see our detailed critique of the best GMAT prep books for 2019 – pros and cons included.
1. The GMAT Official Guide 2020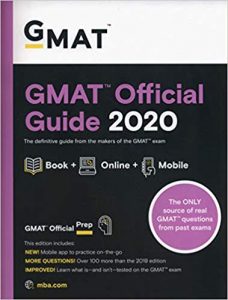 Price: $48 on Amazon.
If there's just one book you want to include in your GMAT arsenal, the OG (Official Guide) is it. Produced by GMAC, it's often hailed as a GMAT must-have, and for good reason. It contains almost a thousand pages of questions from past tests that mirror the design and wording of the real GMAT.
This particular edition comes as a standalone study guide – however, you can also get the bundle version that includes an additional quantitative and verbal review book if you're looking for more targeted practice.
The good:
You'll get the best possible practice from official materials – GMAC is the authority when it comes to the GMAT.
You'll get access to their online question bank, which consists of the same questions as the book, but with the added plus that you can make your own practice sets.
You can pair the book with their mobile app so you can practice wherever you are.
The not-so-good:
While the number of questions you'll get is expansive, the explanations are lacking. So you can use the book to identify your problem areas, but not so much actively improve on it.
There's no theory or coverage of test-taking strategies – but it can be a great supplement to a book that's high on theory.
Our rating: 4.5/5
The OG remains, without a doubt, an indispensable resource for the high-scorer. It's so indispensable, in fact, that we've made it the top GMAT book for 2019.
Remember: the more you practice with actual GMAT materials, the better you'll get at the GMAT.
A word about editions – the 2020 edition has more questions, although the previous editions can still provide effective practice material as they still contain real GMAT questions.
2. Manhattan Prep GMAT Strategy Guides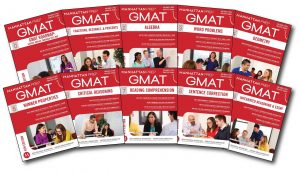 Price: $240 on Amazon.
This is a collection of 10 books, running in at almost 2000 pages of content altogether. Each book dives deep into a specific topic of the GMAT, so you'll get strategy advice on everything from algebra, to sentence correction, to essays.
Purchasing the books also gives you a year of online access to 6 full-length adaptive GMAT tests.
The good:
If you're looking for an exhaustive guide to accompany self-studying, or even a prep course, this book series will be super helpful. The content covers every imaginable aspect of the GMAT, so you'll have covered all your bases.
The books don't skim on theory, and they offer clear-cut test-taking strategies to boost your score – so it's particularly good if you're looking to reach the 700+ line.
It complements the official guide really well (use Manhattan Prep for theory, and the OG for practice).
The not-so-good:
You'll need to consider how much prep time you have and whether you could realistically get through all the content. Since the books are divided by topic, however, you can zero in your weaker areas first – or simply use them as a reference to pick up strategies while tackling practice questions.
As can be seen here, there's a fair amount of incorrect answers within the books.
Our rating: 4/5
Manhattan Prep's GMAT strategy guides are remarkably popular, and it's easy to see why. Their ratings are backed up by the high quality content they provide.
As long as you keep an eye out on their running list of errata (updated online), and accompany with actual questions from the OG, there's no reason why you couldn't ace the GMAT with this collection under your belt.
3. GMAT Prep Plus 2020 by Kaplan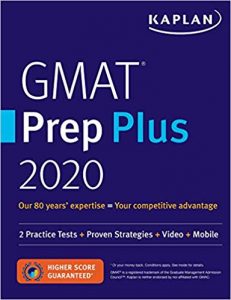 Price: $45 on Amazon.
Kaplan's GMAT prep book is a comprehensive study guide covering all the basic GMAT concepts and strategies.
Along with the book, you'll get five full-length tests as well as access to an adaptive online quiz bank and explanation videos.
The good:
The book contains some good strategy tips to help you avoid common errors and fine-tune your approach to get the right answer.
The online practice tests offered are adaptive, and getting access to five full-length practice tests is a good deal.
They offer a higher score guarantee if you use the book along with the online resources (in most cases you'll need to take a proctored diagnostic test in order to be eligible).
The not-so-good:
Kaplan's GMAT questions can vary in difficulty and content compared to the actual exam – so tread carefully. You'll still need GMAC's official questions for practice if you want a high score.
The online question bank contains only about 200 questions. It's not ideal if you're trying to practice consistently (which you should be!)
Our rating: 3/5
While Kaplan's book advertises a ton of practice questions along with answers, they can stray away from the format and design of actual GMAT questions. That said, it might still be useful for the full-length tests they provide, along with top tips and strategy instruction.
4. The PowerScore GMAT Critical Reasoning Bible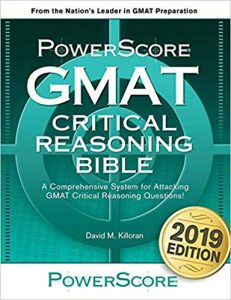 Price: $35 on Amazon.
PowerScore is a big name in the LSAT (Law School Admission Test) world, and as a GMAT test-taker, you need to know why! LSAT is a notorious standardized skills exam known for its mind-bendingly convoluted questions that require intense critical thinking and logical reasoning skills.
So what, you ask? Well, if you're looking to improve your critical reasoning performance on the GMAT, you can bet PowerScore will help you get there.
With this PowerScore Bible, you'll cover the basics of critical reasoning, plus you'll get dedicated chapters providing a roadmap for each type of critical reasoning question.
The good:
You'll get some great insight into how critical reasoning questions are designed, plus detailed, easy-to-understand explanations that focus on exactly why an answer choice is wrong or right.
You'll quickly build familiarity to the test as the practice questions are authentically crafted.
You can read Chapter 2 entirely for free here.
The not-so-good:
You're probably going to need more practice questions than is provided (the book only contains 50).
Our rating: 3.5/5
The PowerScore GMAT Critical Reasoning Bible is pretty well-organized and a good choice for someone looking to boost their GMAT argumentation skills by applying specific theories and strategies.
To see visible improvements in scores though, expect to work on a lot more authentic practice questions, for instance by pairing with the OG.
5. GMAT Prep Book 2019 & 2020 by Test Prep Books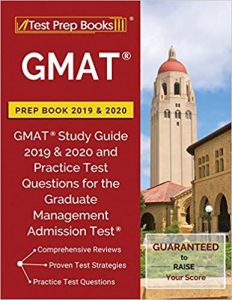 Price: $30 on Amazon.
This Test Prep book is advertised as an all-in-one study guide and includes an introduction to the GMAT format along with a quick run-down of the strategies you must use to tackle GMAT questions successfully.
The book has chapters devoted to each of the four GMAT sections as well as two practice tests with answers.
The good:
It's good as a compact summary if you don't feel like wading through thousands of pages, and probably ideal for those who want to prep for the GMAT mostly by doing through practice tests but want a quick-and-dirty reference as well.
The writing is clear and concise, with concepts outlined in easy-to-follow tables and diagrams.
The not-so-good:
Test Prep mentions a guarantee on the front cover but there's no mention of it on their website.
The answer sections of their practice tests don't have any model essays.
Beware – the questions are somewhat easier than the actual GMAT, so it's important to practice using authentic questions as well.
Our rating: 2.5/5
At just 201 pages, it's the shortest book in our list, so its strength really lies in its conciseness. We wouldn't recommend it, though, for most cases – for one, the coverage of material won't be enough to act as a standalone resource unless you're already pretty skilled at the GMAT. And secondly, practicing the questions in this book likely won't build up the rigor you'll need to face the actual test.
The Best GMAT Prep Courses for 2019
A GMAT course can be a significant investment for most, but it can also go a long way in providing you with the foundation materials, realistic GMAT practice, and personalized support needed to get a high score.
Most GMAT courses now have adaptive technology, meaning that even self-paced plans can cater to your specific learning needs. They also offer a variety of options for all sorts of learning styles and budgets, and often come with companion apps so you can review on-the-go.
There are a few things to keep in mind when deciding which prep course would work for you. First off, it's important to do your own independent research, as it's unlikely that your friends will have first-hand experience in more than one prep course. A course that your friend is raving about won't necessarily work for you as a lot of factors can contribute to making a course successful – your learning style, your strengths, the number of practice hours you put in, and so on.
When researching, check whether there are any free trials on offer (some companies will even let you participate in an in-person class for free). Read the fine print on any guarantees, as they often come along with some important stipulations. See how many practice tests are offered, whether they simulate the actual GMAT, and whether they provide proctoring.
Lastly, different study plans come with different levels of support, so if you're paying big bucks, you'd want to make sure you'll get the help you need, if and when you need it.
Here are the best GMAT prep courses for 2019, reviewed!
1. Veritas Prep GMAT Prep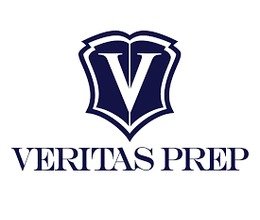 Price: $699 to $2650 and above.
Veritas Prep offers three GMAT packages with a range of impressive features. Their self-study program ($699) includes interactive video instructions plus practice and diagnostic tests. Their live classes offer everything in their self-study program plus 36 hours of live instruction by 99th percentile instructors (interestingly, they advertise that those who enroll improve by an average of 140 points). Finally, you can opt for their private tutoring program which starts at $265/hour for 10 hours.
They also offer a score improvement guarantee and include mobile access along with their courses.
The good:
Even if you opt for their self-guided course, you'll get access to live support (everyday) from their instructors for a year. That's a lot compared to the support that other test prep companies offer.
They're known for their live classes, and they only employ 99th percentile instructors. Ravi Sreerama from the company is currently the highest rated instructor on GMAT Club.
You get 12 full-length practice tests (the highest on this list).
You can try their on-demand course free for 7 days (no payment info required).
The not-so-good:
Veritas Prep tends to design quantitative questions that are harder and require more calculations than the actual GMAT.
Our rating: 3.5/5
Veritas Prep is a good option for those looking for that extra mile in support services. It's also great to consider if you're planning to enroll in a live course.
That said, their practice questions do deviate somewhat from the real GMAT. It's probably worth repeating that the best source of practice is (hands-down) from GMAC. You don't really want to familiarize yourself with design quirks that aren't part of the actual GMAT as it might throw you off on the actual test day!
2. The Economist GMAT Tutor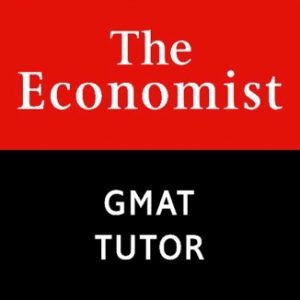 Price: $999 to $1399 and above.
A magazine in world affairs turned test prep machine, The Economist's GMAT Tutor comes in three bites: Complete (3 months for $999), Premium (3 months for $1199), and Ultimate (6 months for $1399). You'll get access to 3-6 practice exams, the mobile app, tutor Q&A sessions, essay markings and more than 5000 practice questions. Oh, and a digital subscription to the Economist magazine itself.
GMAT Tutor follows the lead of other companies using adaptive technology – so each of their online lessons will cater to your own strengths and problem areas. You're also eligible for a 50-70+ score improvement guarantee depending on the plan you decide to subscribe to.
The good:
Their non-video based lessons are engaging and interactive – it's a good option for those who don't want to go through time-consuming video courses or have limited prep time.
Their 5000+ practice questions puts them at the higher end of this list.
Each plan includes a feature where you can get your essays scored with personalized feedback.
You can try it free for 7 days and there's also a virtual tour you can use to check out their interface.
The not-so-good:
Their learning platform doesn't give you any kind of error analysis. Compared to other platforms, you won't get much of an insight into your progress, or what areas you need to improve on.
Our rating: 3/5
The Economist definitely tops out as one of the more expensive GMAT prep course options. You'd definitely have to do the math to see if they're worth it – for instance, you'll have to shell out $1200 for just three months of access (you won't get any prep books along with it either).
That said, they do have some pretty cool features, such as personalized essay grading, which other companies (including Manhattan Prep and Princeton Review) don't do with their on-demand courses.
3. Manhattan Prep GMAT Prep Courses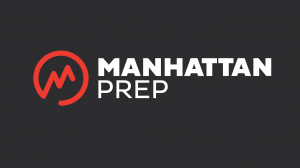 Price: $999 to $2699 and above.
Manhattan Prep has four main 'star' packages: their self-paced Interact™ GMAT Course (35 HD lessons for $999), their online or in-person classroom-based Complete Course (27 hours for $1399), their GMAT boot camps (35 hours for $2699), and private tutoring sessions ($245/hour for 10 hours).
You can pair the courses with their mobile app for better accessibility and convenience.
All plans come with a selection of online tools, their strategy guides, plus six practice tests. You can bump up most of their packages to include a few hours of one-to-one coaching as well.
The good:
Manhattan Prep is the only course provider on this list that provides intensive, 2-3-week bootcamp-style GMAT prep (delivered both in-person and online), where you'll get two instructors who will speed through everything you need to know in 35 sessions. It's not for the fainthearted though – you can get up to "several hours" of homework each day.
GMAT Interact™ is a good option for those looking for a self-guided course that can also tailor to your learning needs. The software basically streamlines your experience depending on you perform, meaning you won't be wasting time on stuff you already know.
You can take part in your first online or in-person session of their GMAT courses for free.
The not-so-good:
They don't offer a higher score guarantee (the only big-name provider that doesn't!) – although they do provide some pretty good justifications for this on their blog.
Our rating: 4/5
Manhattan Prep offers a solid range of high-quality study plans with a good selection of add-ons so you can truly customize your learning experience. Even without a guarantee, the fact you'll get their strategy guides (which are excellent resources), makes them, in our opinion, the top prep courses for 2019.
What makes them stand apart, though, is their bootcamp-style workshops, which are a great option for those who have little prep time, or want to benefit from some no-nonsense revision closer to the test date. Their energetic instructors will pump up your motivation and make sure you're in the best mindset possible to face the GMAT!
4. Princeton Review GMAT Test Prep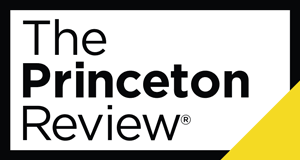 Price: $499 to $1800 and above.
Princeton Review offers three main study options: their adaptive Self-Paced study plan ($499), their live Ultimate classes (27 hours for $1,399), and private tutoring ($180/hour for 10 hours).
Most of these options come with a higher score guarantee, plus 10 full-length, practice tests that simulate the adaptive nature of the actual GMAT.
The good:
Princeton Review provides more full-length practice tests than Manhattan Prep (10 vs. MP's 6) – so if your study focus is on getting lots of realistic practice, they could be a better choice for you.
Their private tutoring option is also much more affordable compared to Manhattan Prep (you get 10 hours for $1800, while 10 hours from MP will cost you $2450).
Their most differentiating feature is probably the Adaptive DrillBuilder, where you can build drills that target your 'zone of proximal development' (in other words, you'll get questions that are difficult, but not too difficult to slow down progress). Done right, you'll be able to see improvements pretty quickly.
You can go for their 14-day trial which offers a good set of free resources (including 1 full-length test).
The not-so-good:
Unlike Manhattan Prep, they don't have a study-on-the-go app version of their courses.
Our rating: 3.5/5
Princeton Review is clearly a slightly more affordable option for most, although their study plans are pretty standard and far from ground-breaking. They do make good use of adaptive technology, however, with their self-paced course and online DrillBuilder tool.
Their courses are probably more suitable for practice-heavy study, and you might also want to consider them if you'd like to dip your toes into private tutoring.
5. Magoosh GMAT Prep
Price: $219 to $799.
With Magoosh GMAT Prep, you've got two self-study options: 'Math + IR' ($219 for a year's access) and 'Premium' ($249 for a year's access). They also have a guided-study option, which is the premium package plus 6 hours of private tutoring ($799).
In terms of content, their plans include roughly 200-350 video lessons (which is the meat of the program), plus 700-1300 practice questions and 0-2 practice tests. You'll also get email assistance if you hit any stumbling blocks.
The good:
Magoosh's quantitative videos are really their standout feature – they're great if math is not your strong point and you want to follow someone explaining each concept step-by-step.
They offer two guarantees: a 7-day guarantee, plus a 50+ score improvement guarantee on their premium and tutoring plans.
There's a 7-day free trial where you can sample 30+ videos and practice questions.
The not-so-good:
There's not enough practice tests here compared to other companies – there's zero practice tests included in the Math + IR option, and only two for the premium plan.
Their practice questions can deviate from true GMAT form and design (especially their verbal questions).
Our rating: 3/5
Magoosh is well-known for their inexpensive test prep courses, and their GMAT plans are no exception. You'll get a ton of content for the price, although you'll definitely have to look elsewhere for full-length simulated practice tests.
They're probably best suited for those looking to improve their GMAT quantitative skills using video-based instruction.
The Best GMAT Prep Apps for 2019
Free GMAT study apps are great! Right?
Well, not quite.
GMAT study apps can be alluring – especially when there's a plethora of 'free' apps right at your fingertips.
This can be deceiving though. Low quality apps are a-plenty, and while it might be tempting to download them, you can actually waste your time blundering through pop-up ads and app crashes. In the worst case scenario, bad quality practice questions can end up hurting your chances of success.
One of the biggest advantages of using an app to study for the GMAT is the ability to benefit from performance analytics. If done properly, performance stats can positively impact on your score. For example, if you've got an app that's able to log your error patterns, you'll be able to refine your practice sessions to ensure you're laser-focusing on your weaker areas. Likewise, if you've got an app that can track your progress in a way that accurately predicts your GMAT score, you can get a really good idea of where you stand in the actual exam.
So before you download an app, think through what the app offers and whether you'll make the best use of your time by using it. In order to be effective study aids, app use must be strategic, and they must complement your foundation resource (whether that's a book or a prep course).
We've scoured the internet in search of the best GMAT apps for 2019 (both free and paid), so you can make up your mind about which app could actually be the best bet for you.
1. Magoosh GMAT Math Flashcards (Web, iOS, Android)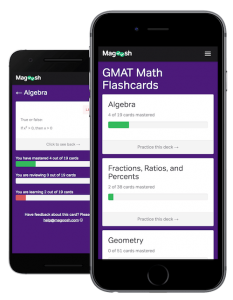 Price: Free.
This is an online deck of 425 flashcards created by the Magoosh team. The cards deal with GMAT math concepts, and cover everything from algebra to statistics and probability.
You can practice by topic, and there are six mixed decks also available.
The good:
You won't experience any sneaky limits or push for upgrades with this app – it's 100% free content.
The cards show not only the answers, but also common traps that test-takers can fall into.
As with other Magoosh flashcards, these use a spaced repetition practice algorithm. So you'll revisit concepts periodically, depending on how well you know them, which can be great if your math memory is not the best.
The not-so-good:
Unfortunately, some cards can't be viewed properly – they either appear blank or don't load properly.
There's no option to customize the decks, for example by sub-category, or mix and match topics yourself.
Our rating: 3/5
This app might be a good choice if you're interested in brushing up GMAT quantitative basics. There are some limits to pre-set flashcards, though, the biggest being you'll need to paddle through the easy topics to get to the stuff that really matters.
It's also important to understand that these flashcards are not GMAT practice questions – they're just there to test relevant math concepts. On the upside, unlike some other 'free' apps, there's no pop-up ads or feature limits.
2. 21st Night (Web, accessible via mobile)

Price: Free 7-day trial, $17/month thereafter.
21st Night is a study app created by Trevor Klee, a 99th percentile GMAT tutor, to help anyone preparing for a standardized exam.
As a tutor, he knew rigorous practice was the key to success, but a lot of test-takers simply didn't do it effectively or consistently enough, so their scores suffered. 21st Night has some powerful features to enable anyone to practice 'deeply' and strategically – and ultimately become a high-scorer.
21st Night is not just a flashcard app – it's carefully designed to optimize your practice sessions in a way that translates into results. Simply capture or import your questions and practice – the app will take care of the rest for you.
You can check out the official tutorial that goes in-depth on how 21st Night can be used specifically for the GMAT.
The good:
You can capture questions from practically any source, whether it's a photo from a textbook, an online question, or even a YouTube video. Top tip: you can input all the questions and explanations from the Official Guide into 21st Night with this free spreadsheet.
The app uses a spaced repetition algorithm that automatically logs your errors and strategically boosts your memory depending on how difficult you found each question.
You can organize your practice questions by adding them into categories and sub-categories. This way, you can build mastery by tackling each topic 'deeply' before moving on to the next.
It'll help you get into the habit of practicing daily by running 21-day streaks.
The not-so-good:
You'll need to enter all the content yourself (although this is super easy to do).
Our rating: 4/5
21st Night is the ultimate app for those aiming to score 700+ on the GMAT, and it's the top rated on our list for a few different reasons. With its inbuilt spaced repetition algorithm, you'll be reviewing questions effectively and efficiently by making the most of your errors. You'll also be building the discipline needed to practice consistently.
Taken together, with daily use of the app, you can be sure you're going to see actual score improvements.
Make the best use of the app by making drills using questions from the Official Guide, or use it as a companion app to revise concepts from your favorite book or prep course.
3. Ready4 GMAT (iOS, Android)

Price: Free with in-app upgrades.
Ready4 is a test prep company specializing in mobile learning. Ready4 GMAT was designed to be a fully independent platform consisting of all the tools and information you'll need to ace the GMAT.
The GMAT app, free to download, includes 2000+ practice questions, in-depth explanations, 100+ concept flashcards, and performance analytics that log both your speed and accuracy.
The good:
The volume of free content you'll get seems to be pretty good. You get access to a good variety of quizzes, practice flashcards, explanations, and concept reviews.
You'll get insight into your progress with their in-built analytics, which include your estimated predicted score and score percentile.
The not-so-good:
Like Magoosh GMAT Math, the app has display errors. So you might come across a few questions with garbled or missing text.
Even if you purchase the upgrade, you may experience ads for additional services (especially for private tutoring).
A word of caution – their practice questions are not of the highest quality and don't meet the standards of the actual GMAT exam. Their predictive scores can also be far from accurate.
Our rating: 2.5/5
Considering the company founder, Elad Shoushan, created this mobile interface after failing the GMAT several times himself, we had some pretty high hopes for this app. While the vision (and quantity of content) is certainly there, the user experience and quality seems to be lacking.
We don't recommend using the app as your foundation resource to prepare for the GMAT. However, if you use it for its concept reviews and its questions as extra (not core) practice, plus take their predictive analytics with a pinch of salt, you might garner some benefit from the app.
4. GMAT Prep by Varsity Tutors (iOS, Android)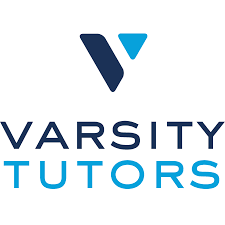 Price: Free.
The GMAT Prep app by Varsity Tutors is designed to act as a personal study guide for all sections of the GMAT. It includes hundreds of flashcards with questions and comprehensive explanations.
You can use the app to review GMAT concepts by topic, or test your knowledge with their practice and diagnostic tests.
The good:
You can personalize your study sessions using the flashcard maker option within the app, which allows you to select a topic or subtopic of your choice.
The 'Question of the Day' feature can be pretty useful to get you into the practice mood. It gives you a daily practice question, along with the answer and explanation, plus it'll also time how long it took you answer it.
The not-so-good:
Some of the questions aren't well designed – so it's a gamble as to how well they reflect actual GMAT questions in terms of difficulty and presentation.
Because of this, it's probably best not to rely on the diagnostic tests to give you an accurate reflection of your GMAT ability.
Our rating: 3/5
GMAT Prep by Varsity Tutors ticks the boxes when it comes to learning and reviewing GMAT concepts, although it's probably best not to use it as your foundation resource for practice questions as they deviate from the actual GMAT. Use the OG instead (do you see a pattern here?!).
On the plus side, the app is completely free and ad-free, so as long as you're using it for supplemental practice, you should be okay.
5. GMAT Flashcards by Kaplan (iOS, Android)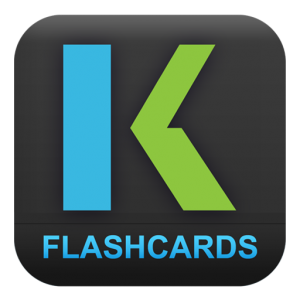 Price: Free with in-app upgrades.
Kaplan's GMAT flashcards app consist of 500 cards (50 of which are free) that relate to all four sections of the GMAT. You'll also get a deck about the GMAT exam itself.
The cards are not just practice questions. They cover strategy, theory, and the types of questions you'll encounter as well.
Here's how the 500 flashcards are broken down: 260 are quantitative, 190 are verbal, while the remaining 50 deal with analytical writing, integrated reasoning, and test-taking techniques. You can also purchase a paper version of the flashcards on Amazon.
The good:
You can customize your study sessions by choosing which card deck and how many cards you want to work with.
As you practice, the app gives you some basic but useful statistics about your performance and progress. You'll get to know how many cards you got right (and wrong) section by section.
The not-so-good:
There are relatively fewer flashcards to help you with analytical writing and integrated reasoning, and to familiarize you with the format of the test (just 50 in total).
The content might be limited in its usefulness if you're not familiar with the Kaplan methodology.
Our rating: 3.25/5
Compared to other apps that seem to go overboard with tools and features and analytics that don't really deliver on what they promise, this app is a nice change. It has a very clean, user-friendly interface that'll make reviewing on-the-go a breeze.
However, the flashcards are clearly meant for users who are already enrolled in a Kaplan prep course and/or purchased their books. So unless you've already done that, look elsewhere – the content here might confuse you.
***
Once you've identified which GMAT prep resources are the best for you, the next step is to create an effective strategy that capitalizes on those resources. All the best GMAT resources in the world will mean nothing if you don't construct – and religiously follow – a good study plan that optimizes the way you use them and gets the results you're looking for.
A stellar study plan will factors in things like the difference between your baseline score and your score goal, how much time you have left to prepare, and your problem areas.
If you're confused about how exactly to go about this, check out our guide to strategically improving your GMAT score, taking into account all those factors.
Not sure if your GMAT score is good enough? Wondering why you got a low score? You might also find our article on GMAT scores helpful – it tackles common questions related to taking the GMAT and how you can revamp your study technique for super-high scores.